My laptop has been glitching for a while now. I've had to reboot it almost daily since this semester started. At first, I thought it was gremlins, but there's no way they could be responsible for what just happened!
The Lenovo's always been a bit finicky, but lately whenever I use it, it crashes. I've had to reboot it up to 6 times periodically. It especially seems to whenever I'm working on a creative project or assignment. Most often when I haven't just saved it.
A few minutes ago, it started acting up again. I forced a shut down, waited a few seconds, and turned it back on.
The screen came up sideways.
It wouldn't rotate back, so I forced another shut down and turned it back on.
The wi-fi said "No Connection."
I shut it down again.
The wi-fi was on, but it thought I was in Laurel, not College Park, so I couldn't connect to campus wi-fi.
I rebooted it again.
Finally, it worked! I opened up Chrome, restored my tabs, and just as I was about to upload a class assignment –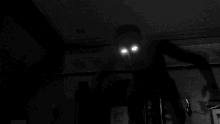 This happened.
The screen went black, and it just appeared on my laptop, reaching for me through the screen!
I screamed, slammed it shut, and ran out of the room!
Eventually, I had to come back and apologize to the librarians XD