These levels have definitely been a bit tricky, but don't get too bogged down just yet. S is still on the loose, and we have to do everything we can to move forward!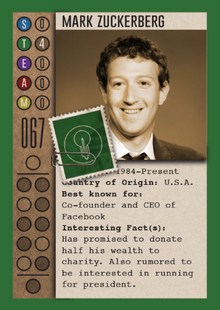 Bio:
Mark Zuckerburg is an American computer programmer and entrepreneur. Is is also the chairman, CEO, and co-founder of the popular social-networking site, Facebook.
Early Beginnings:
From a young age, Zuckerberg has always taken an interest in computers. He first began using computers and writing software in middle school. He was later tutored privately by software developer, David Newman, and was deemed as many as a "programming prodigy." Zuckerberg then went on to attend Harvard University, where he created the site Facemash, which garnered a lot of negative attention.
Career:
However, although his previous works may not have been positive, Zuckerberg then launched Facebook from his Harvard dorm room on February 4th, 2004. At first, it started off exclusively as a "Harvard thing," but quickly spread to other schools, and soon garnered the attention of major corporations looking to buy the company. However, Zuckerberg and his associates were more focused on creating a system that provided an open flow of information between people.
National Recognition & Further Success:
Fast forward a couple years, Zuckerburg is now ranked the 5th richest person in the world, and Time Magazine has also named Zuckerberg among the" top 100 wealthiest and most influential people," and in 2010 was also named Time Magazine's "Person of the Year."
Contributions to the Tessera:
Zuckerberg has created Facebook, which is one of the major social media platforms that the Tessera organization uses, to share its news, creative ideas, and general messages to players/general public. He may have also contributed his programming skills in maintaining and constructing certain levels within the Tessera game as well.
Generally, he and his company are in charge of overlooking Facebook messages regarding the Tessera, and providing easy ways to access, share, and provide general information flow between people and the people behind the organization. Zuckerberg is also in charge of promoting the Tessera game and organization through Facebook, and has been successful in generating excitement as well as positive publicity to the general public.