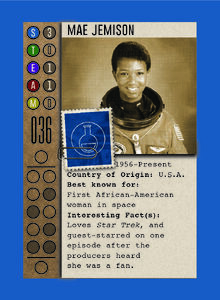 Who loved the exploration in level 6! I'm comfortable not being directly on land, so it was fantastic for me.
Biography
Mae Carol Jemison was born in Decatur, Alabama in 1956. Her interests are in engineering, being a physician, and exploring space through being an astronaut through NASA. She is famously known as the first African-American woman to travel to space. She traveled on the Space Shuttle Endeavour on September 12 1992.
Early Life
Jemison brilliance started from a young age. She has always been intrigued by science, despite society being against her. She fought through judgements against not only women being scientists, but also African Americans being scientists. She started off her education at Stanford University, and then continued her education post graduation at Cornell Medical College. After her education, Jemison served in the Peace Corps for two years (1985-1987), where she was then selected to join the astronaut corps by NASA. She was featured on the show Star Trek: The Next Generation.
Space Travel
Jemison flew with six astronauts to space on September 12 1992, where she spent more than 190 hours before returning to Earth on September 20 1992. Being the first African American woman in space, she made a point to stress the importance of equality. She wanted society to notice how not only just minorities, but also women of any race can engage in any STEM field.
Contributions to the Tessera:
Jemison has greatly contributed to the STEM field, showing her passion and love for learning of science.
Citation:
Biography.com Editors. "Mae C. Jemison Biography." The Biography.com website. A&E Television Networks, 30 Sept. 205. Web. 10 Mar. 2017. <http://www.biography.com/people/mae-c-jemison-9542378>.