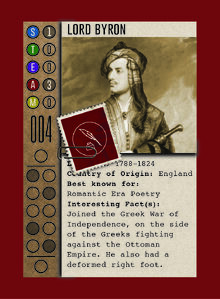 Biography: George Gordon Byron, more commonly known as Lord Byron, was regarded as one of the greatest British poets, and was also a politician. Early in his career, he traveled across Europe, particularly around the Mediterranean regions, and spent time in Albania and Athens. In 1812, he published the first two parts of his narrative poem, "Childe Harold's Pilgrimage", which garnered him celebrity status. To escape from debt, he married Annabella Millbanke in 1815, who gave birth to their daughter Ada (Ada Lovelace). However, they separated a year later. Plagued by scandal and debt, Byron left England for good.
In 1816, he stayed with his personal physician in Switzerland, where he befrinded the poet Percy Bysshe Shelley. Byron, Shelley, and the poet Leigh Hunt started a newspaper called The Liberal a few years later in Italy.
In 1823, He joined Alexandros Mavrokordatos of Greece to fight against the Ottomans. He sold his estate in Scotland to financially aid the Greek cause. Before he could take command of his own rebel army, he contracted a series of illnesses, which eventually led to his death.
Contributions to the Tessera: One of Byron's greatest works was Don Juan, a 17 part poem regarded as the epic of it's time. The satirical nature of the poem regarding its subject matter, as well as the subject matter itself, was considered "immoral" by the society of the time. Outside of his works, Byron's eccentric life lent towards the creation of a literary archetype, the "Byronic Hero" which depicts a talented character, but flawed character; the flaws being a shady past, arrogance, overconfidence, being in exile, self-destructive behavior, etc. In essence, Byron's creative, thought provoking poetry, and his very life are used as inspiration for countless creative works, and the light of inspiration keeps S at bay.