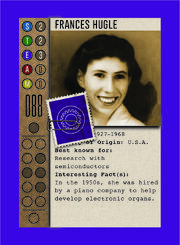 Biography : Frances Hugle was born in Illinois in 1927. Growing up, she participated in many science and math clubs, activities, and competitions. Continuing on to college, she attended the University of Chicago and majored in philosophy and graduated with bachelor degrees in philosophy and chemistry. After getting married, she went on to gain a masters degree in science. While obtaining her education, she founded various research companies alongside her husband. In 1951, she got a job at the Standard Electronics Research Corp. and later worked for the Baldwin Piano Company followed by employment for Westinghouse Company. Frances Hugle and her husband then opened their own astro-electronics laboratory. Later, they would co-found Siliconix working as engineers and after, would work for a few more companies. 
Throughout Frances Hugle's life, she was known for her research in semiconductors and inventions of electrical technology. She patented several of her technologies, such as the tape automated bonding and the flex-based packaging. Her and her husbands work with semiconductors among other technologies are still expanded upon and used today. 
Contribution to the Tessera : Frances Hugle helped create the locks and puzzles in level 7, creating logic gates and complicated electrical circuitry in attempts to keep S out of the Horsley Towers. Gaining much knowledge and experience as an engineer and inventor for semiconductors, Frances was especially equipped to create difficult puzzles to fight back against S. 
Sources: