Martha Euphemia Lofton Haynes (Septmeber 11, 1890 - July 25, 1980)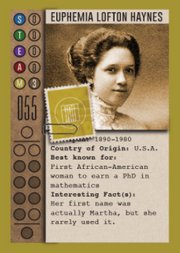 Nicknames: Euphemia
Family Ties:  Daughter of William S. Lofton, a prominent black dentist, and Lavinia Day Lofton, a kindergarten teacher. 
Career and Achievements: Haynes was the first African-American woman to earn a PhD in mathematics from The Catholic University of America in 1943.  In 1930, she founded the math department at Miner Teachers College (now University of the District of Columbia ) and acted as the head of the program for nearly 30 years.  She also taught mathematics at a number of local middle and high schools over the course of her career. 
Contribution to the Tessera:  She headed an outreach division for the Tessera that focused on educating disadvantaged children in the field of mathematics.  She believed that everyone had a right to an education, and she wanted to combat the injustice that racial segregation of the American school system had caused.  Working closely with fellow Tessera member Marjorie Lee Browne, the number of African-American members was more than doubled during their tenure.